Families with children challenged by complex disabilities are often marginalized in the cultural community, left without access to the arts.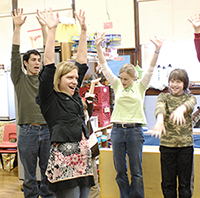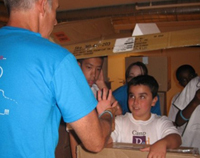 Since its inception in 2006, Chicago Children's Theatre has demonstrated a passionate commitment to creating meaningful educational programs for Chicago area youth and families. Such programs have included collaborations with the Peggy Notebaert Nature Museum, Chicago Park District, Chicago Public Library, Chicago Public Schools, Children's Memorial Hospital and Chicago Children's Museum, to name a few. Chicago Children's Theatre also offers Student Matinee and Scholarship programs, which furnish underserved students and schools with deeply discounted or complimentary tickets to its productions. To date these programs have reached over 10,000 children in Chicago.
Now, Chicago Children's Theatre is proud to announce the development of an education initiative, The Red Kite project, which is the brainchild of Artistic Director Jacqueline Russell. Russell's ten-plus year commitment to serving children with special needs, and children with autism in particular, led her to participate during summer of 2006 in a special hands-on workshop with London's Oily Cart company, a unique organization exclusively focused on serving the very young and children with complex disabilities. In continuing dialogue with Oily Cart, Chicago Children's Theatre has developed the framework for a pilot program that couples the work of both companies. The Red Kite project, a seven month development workshop and co-production, will culminate in the realization of an interactive, multi-sensory installation performance for children with autism at Chicago Children's Museum. The installation will be available to Chicago families during autism awareness month, April, of 2008. Chicago Children's Theatre is pleased to partner with the Pritzker Pucker Foundation to make The Red Kite project a reality. As Project Development Supporter, the generosity of this foundation provides half of the funding required for the workshop phase of this initiative. Chicago Children's Theatre will rely on individual and corporate contributions to fund the remaining half of the development.