Upcoming Workshop Dates: To Be Announced
For more information, please contact David Amaral at 773-227-0180 x 15
or at damaral@chicagochildrenstheatre.org.
Chicago Public School educators who work with the autism community interested in integrating drama into their classrooms should consider enrolling in our annual workshop: Using Theatre in the Classroom for Students with Autism.
This hands-on, creative workshop is designed for CPS teachers who work with students with autism at any point in the school day. The program focuses on the use of theatre as an inclusive tool to strengthen the teacher's ability to impact the ways in which their classroom of students affected by autism develop and communicate. Using unique drama tools, the workshop addresses the creative and expressive needs of these special youngsters, and presents participants with innovative strategies.
"The Red Kite workshop gave me the tools to enhance the lives of my students."
-Jennifer Minkus
Edison Park Elementary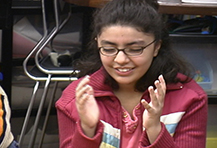 "Drama Time...has had a profound impact on my classroom as a community."
- Patty Walsh
Ole A. Thorp Academy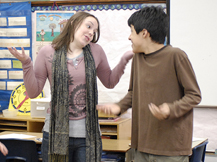 "Thank you so much for your ideas...after 22 years of teaching, I realize how much I still have to learn!"
- Doris Lozano
Otis Elementary
"My students can now deal with their emotions and others' appropriately."
- Hailey Deloya
Otis Elementary
Topics include:
Presentations from theatre artists, teaching professionals, and autism specialists
Review of Chicago Children Theatre's The Red Kite Project (for children on the autism spectrum)
Strategies for creating an experiential classroom and assessment techniques for this population
Demonstrations of numerous creative activities/resources to utilize in the classroom to support a variety of curriculum.
Tactics for using theatre as a troubleshooting tool in an inclusive classroom.
On the final day of the workshop participating teachers will present a lesson plan and sample interactive "drama-in-the-curriculum" activities. They will share their materials with their workshop peers and the Chicago Children's Theatre team, reflect upon the workshop, and design plans to include the use of theatre in their classroom.

Chicago Children's Theatre would like to thank our generous sponsors:
Education Sponsors
If you are not a Chicago Public Schools educator, but are still interested in partnering with Chicago Children's Theatre and The Red Kite Project for training – please do not hesitate to contact us.